(401)-351-9193
Dorothy T. Samuel, "Safe Passage on City Streets"
<![if !vml]>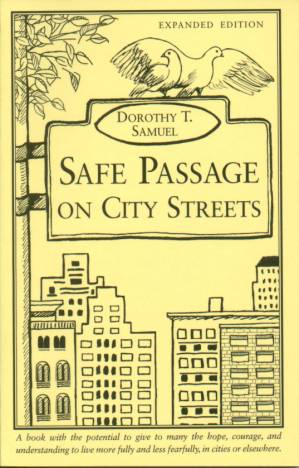 <![endif]> <![if !vml]>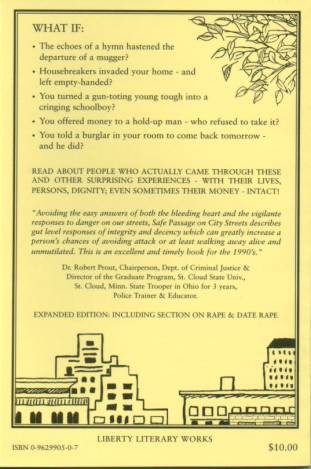 <![endif]>
"Safe Passage on City Streets" sets out, in logical order, a set of principles for dealing nonviolently with personal attackers. Each principle is explained with true stories. A number of college instructors have been using "Safe Passage on City Streets" as a course textbook.
The second and third editions contain an additional section that discusses date rape. Note: The cover has changed from the second edition to the third edition. $10.
To place an order, call (401)-351-9193. Yes, we answer detailed questions over the phone about either book.
Anna Ruth Fry, "Victories Without Violence".
<![if !vml]>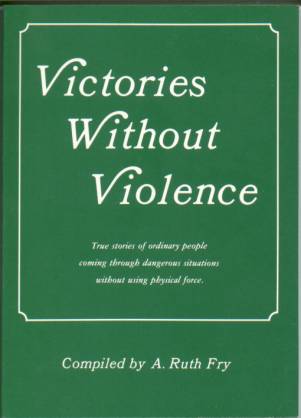 <![endif]> <![if !vml]>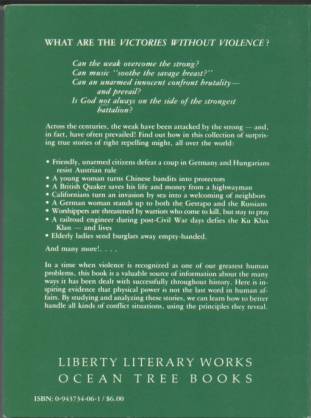 <![endif]>
"Victories Without Violence" is a collection of 100 word to 1000 word true stories about nonviolence, from tales of personal courage in the face of war or other danger, to tales of military invasions that turned into joyous picnics. $6.
The Rock video
Bulk discounting information:
We ship quantities of 5 or more copies of a particular book at a 30% discount.
Shipping costs:
We usually ship via USPS or UPS. If you need books quickly, we can ship for next day, second day or third day arrival. Shipping costs vary, but USPS priority mail is a flat $3.85. We prefer to handle telephone orders for more prompt shipping. Call us at (401)-351-9193.